Is it Father's Day yet? Nope. We still have some celebrating to do. In the last segment, we looked at atypical single fathers figures from Adult Swim and Cartoon Network classics. Today's picks include movie dads who will do anything to protect their children.
June 13th – Robin Williams, Film Dad to All
Unfortunately, today's pick is no longer with us. However, his memory lives on in his extensive film repertoire. Stand-up comedian Robin Williams was also an acting chameleon. He wore multiple character hats, including that of a father from Popeye and Hook to Mrs. Doubtfire and The World's Greatest Dad. Even though we'd love to cover everything that Robin has done, as we mentioned before, his film background is pretty extensive so we're going to focus on one movie in particular that really sets him apart as a dynamic father figure, The Birdcage.
Hold the salt and hear us out.
In The Birdcage, Robin plays the openly gay lead character, Armand Goldman. Armand owns aptly titled lol The Birdcage, a popular drag club in South Beach where his effeminate partner, Albert, is the star attraction. When Armand's son, Val, visits, the Goldman family is thrown for a loop. Val announces he is engaged to the daughter of an ultraconservative Republican politician and that her parents plan to meet them.
The Big Change
At Val's request, Armand reluctantly goes along with his son and fiancée's charade to ensure the meeting runs smoothly. (Obviously, it doesn't and comedic chaos ensues.) Armand is urged to play up his masculinity. He acts as a straight man who happens to be a cultural diplomat to Greece. Sweet Albert, on the other hand, is encouraged to leave town for a few days. Of course, he does not take that well and pretends he is Val's straight uncle, then (in drag) his good-natured mother. Val's biological mother also gets in on the farce due to Armand; he surprisingly reaches out to a woman who not only hasn't been in contact with him for over a decade, but doesn't bother to have a relationship with their son as well. Definitely some hard feelings at play here.
For someone who- despite the constant adversity faced by the LGBT community- is secure with his sexuality, has been out of the closet for years and built a successful business, it is telling that Armand is willing to betray himself and his beloved partner to fit into society's category of normal. Armand places his son's happiness above his own. Sad, but a common action among parents. When it comes to your kid, you make sacrifices because you love them.
Editor's note: We would have featured Albert as an amazing father, but in this instance, he won our hearts over as the leading mother figure of the movie. Nathan Lane kills it in his portrayal of Albert.
June 14th – Bryan Mills (Liam Neeson), Taken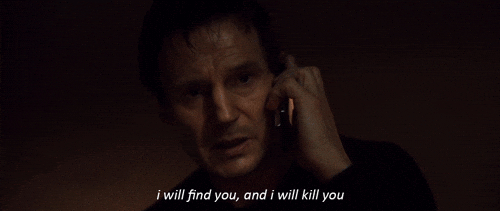 In Taken, Bryan Mills Liam Neeson uses his certain set of skills to take out the bad guy and get his kidnapped daughter back. He loves his daughter so much that even though he is retired and out of the CIA game, he puts his life on the line to save her. What did we get out of it? A timeless funny meme. This father deserves some recognition.
Get ready for the next father figures to join our favorite dads list. We're celebrating Alan Matthews from Boy Meets World and Hal from Malcolm in the Middle.