Today's the day. The day when that SpongeBob SquarePants meme takes over the Internet. You know the one. Once you see it, you hear the high pitched voice ring in your head saying "April Fools" followed by his iconic laugh. Haaa haaa haaa. Yup that's the one.
To balance this Internet take over we've provided you with 10 April Fools' memes. Use them throughout this festive holiday.
1. It's on like Donkey Kong.

2. Believing Shrek is an All Star. Shrek is life.
3. Comfort your special someone with tantalizing awkwardness.
4. Channel your inner "I'm Fine" dog when things go too far.
when ur sensitive and dont want to be hurt no mo https://t.co/iV4Q9FWAXX

— meme plug (@thepIugformemes) March 28, 2017
5. When you're just not having it.
6. Can't help but be suspicious throughout the day.
7. Pranking involves spending your hard-earned money on people you don't even like.

via me.me
8. You're so over all the Kims and their shenanigans.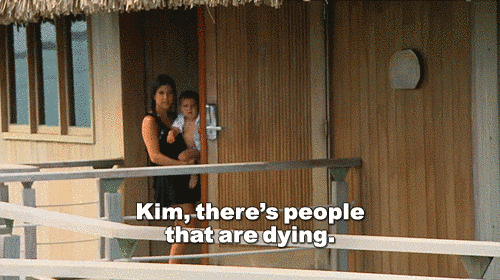 9. The truth hits you hard
10. It's true
Tbh, there's no sure way to avoid the tomfoolery and getting fooled. Stay vigilant.
Bonus Content
What's the history of April Fools' Day? Where did April Fools' Day come from?
April Fools tradition popularized
Although the day, also called All Fools' Day, has been celebrated for several centuries by different cultures, its exact origins remain a mystery. Some historians speculate that April Fools' Day dates back to 1582, when France switched from the Julian calendar to the Gregorian calendar, as called for by the Council of Trent in 1563. People who were slow to get the news or failed to recognize that the start of the new year had moved to January 1 and continued to celebrate it during the last week of March through April 1 became the butt of jokes and hoaxes.
– History.com